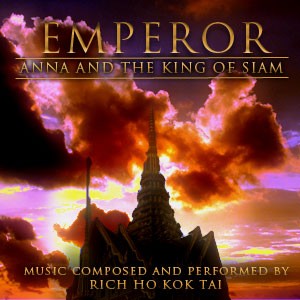 貨品描述
Emperor:
Anna and the King of Siam is one of the earliest film scores that I've recorded, for a film that was never made. Well, there was a musical, and about 4 films made that fictionalized the true tale of King Mongkut and Anna Leonowens. Being a history student, I marvelled at the sensationalizing of historical fact, yet I am enthralled by the possibilities of these tales that were meant to be fantasies anyway. I never actually watched all 3 film productions, but I had a childhood memory of seeing an image of Yul Brynner as the King, and a parade of his children before an English woman.
As I grew up, I anticipated my history books to reveal more information about any hint of their relationship that was beyond race and culture, just like the films implied. Well, as far as the history books are concerned, it's not recorded down. However, how many a times are one's emotions left unsaid, let alone recorded for another to hear? How many scribes were present to witness the glimmering eyes of romance? How many historians were present to interpret the gestures that speak beyond their actions?
When I received my first digital piano (a CVP 94 Clavinova) in 1998, I was 19, and stuck at home for about 2 months due to a ruptured appendix. Thus I had many hours to imagine my own version of history as I like it. With no critics to mull over it, or academics to debate with scrolls that are mouldy. Having conjured the images of the King and Anna's story, I began to write music stories to accompany those scenes in my head. You can now hear a selection of these themes below.
The King and Anna have their own distinct instruments for their "voices" and at times a conversation might take place. For whatever, they might have truly spoken and said, let history give them a break, and allow them to remember the secrets of their moments: J Rich